MEASURES TO CONTAIN SPREAD OF COVID-19
GFNY Alpes Vaujany is taking a number of precautions to keep GFNY riders, staff and volunteers safe. Measures include social distancing, modifying aspects of the race to prevent congregation of people and avoiding contamination from surfaces.
REGISTRATION / PACKET PICKUP
Registration and Packet pickup will be conducted in a flow method. Each rider will join the registration process and complete each step individually.
The registration flow is one-way traffic flow. Riders joining the line to access packet pickup are required to uphold at least 1 meter distance to the next rider. Each of the registration steps including signing the waiver, picking up the race packet, picking up the jersey and goodie bag will be done consecutively step-by-step with adequate distance between riders.
There will not be an expo component at packet pickup to avoid congregations of people.
GFNY will have a stand with a limited quantity of merchandise, which will also operate in the same one-way flow method as the packet pickup. We encourage riders to make online orders at shop.gfny.com which can be picked up with showing photo ID and purchase receipt.
Hand sanitizer will be available before and after the packet pickup. Face masks are obligatory while in line and at the time of packet pickup.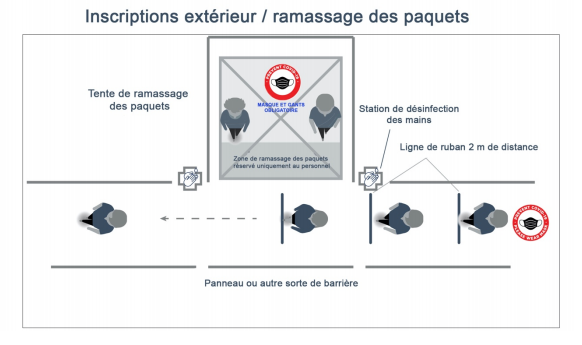 START AREA
Start corrals are extended for social distancing and each corral has a smaller number of riders allocated to it.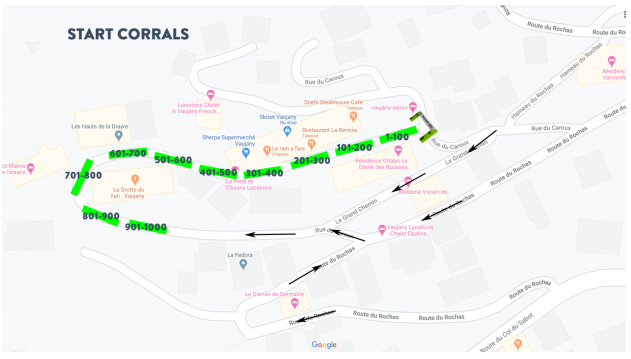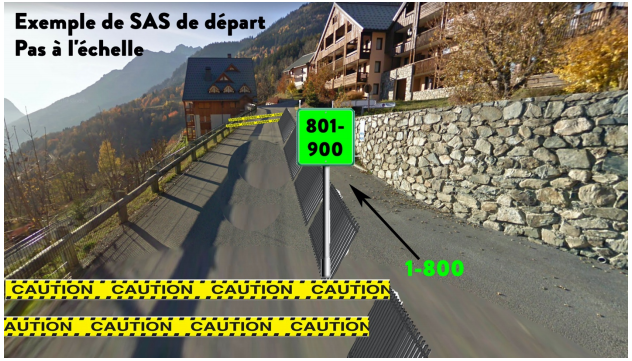 AID STATIONS
The aid stations are designed to ensure distancing among riders and a one-way flow method.
Each aid station will have a waiting line where riders are required to uphold at least 1 meter distance to the next rider. There will be designated service points. The aid station team member will call the next rider in line to the open service point.
Each service point will contain all available food and hydration options to reduce need to move locations or come in close proximity with another rider.
All food items will be single-packed for hygiene. Cups will be pre-filled. Filling of bottles will be done by the aid station team pouring into the rider's bottle to avoid surface contamination.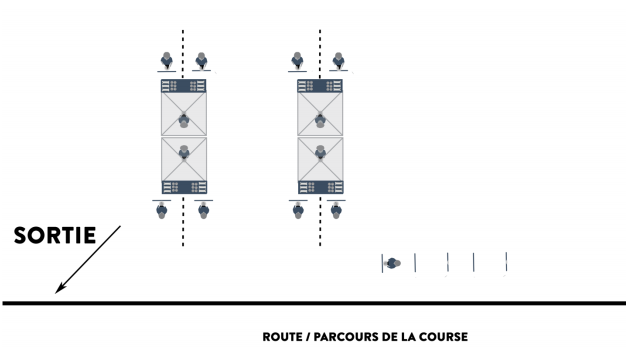 NO ASSISTANCE
While it is a general rule that GFNY riders cannot accept outside assistance, at this time GFNY Alpes Vaujany riders also are not permitted to exchange materials between participants either.
AFTER THE FINISH
The finish is set up in a one-way flow method. After a rider crosses the finish line, the rider will walk their bike and respect a minimum 1m distance to the next person. This is done to avoid congregations of people.
Medals unfortunately will not be hung around the neck, they will be handed out.
Riders joining the line for water and Finisher Photos are required to uphold at least 1 meter distance to the next rider.
The usual post-race meal will be carried out as Meal To-Go. There will not be seating and no common meal eating area.
There will not be bike parking available to avoid surface contamination and congregations of people. It is not permitted to leave bikes unattended or lay bikes on the ground, which causes a safety hazard.
Results will not be printed and posted. Results will be available online at gfny.cc/results or in each rider's GFNY.cc account.
There will not be an awards ceremony to avoid congregations of people. We will make announcements to congratulate riders.